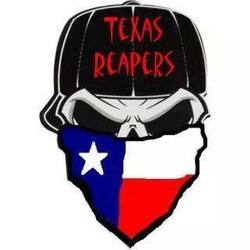 The Texas Reapers became a team Aug 2011. They normally run Tan gear but adjust per event.
They have atteneded many national events including American Milsim - RDG11, RDG12, ESR2, BH3, IC, RDG13, ESR3, Copperhead, BH4, IC2.
The plan for the rest of the year is to attend Op Imposing Law, RDG14 and Lions claw- Irene.
Texas Reapers have many sponsors including WestTexasAirsoft, TexasMilsimAssociation, airsofttactal, D14airsoft, USAirsoftTexas, TaccticaI Imaging.
There are currently 11 total Members on the Texas Reapers. Were known as the team that gets stuff done on the field and helps any way we can off and on the field
Our main goal as a team is to continue to grow this community and play with honor and integety
Facebook.com/texasreapers
---