Introducing the d14 Airsoft Party Host!
UPGRADE TO AWESOME

Now you can add a D14 Airsoft Party Host to your next reservation! Your host will lead your group for 4 hours and make sure your experience is flawless. Our party hosts are regular players at our field, so they know all the buildings, games, flag pole locations, and more. He'll play alongside your group and will carry extra ammo, batteries, dead rags, and water to ensure you'll rarely have to leave the field mid-game.

This option is highly recommended
if you are new to D14 Airsoft.
---

Host your next birthday party or group event at D14 Airsoft and
take advantage of our packages which are loaded with savings!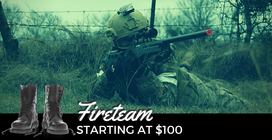 Players: 5-9
Cost: $100-$200 (based on the number of players)
plus One Free Deluxe Rental
Savings: $65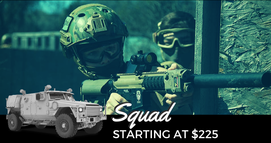 Players: 10-13
Cost: $225
plus Two Free Deluxe Rentals
Savings: $105-$180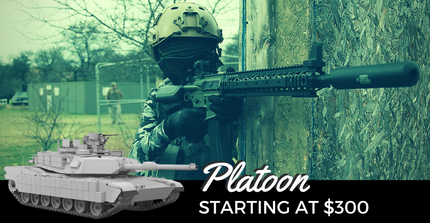 Players: 14-16
Cost: $300
plus Three Free Deluxe Rentals
Savings: $170-$220
Players: 17-19
Cost: $375
plus Three Free Deluxe Rentals
Savings: $170-$220
Players: 20-24
Cost: $450
plus Four Free Deluxe Rentals
Savings: $210-$340
---
What comes with your Free Deluxe Rentals?
---
What else comes with your reservation?
How can I schedule my next party at D14?
It's simple!
Complete and submit the form below. One of our staff members will contact you to answer any questions and confirm your reservation.

Complete the digital group waiver before the day of your reservation. It is not necessary to provide a printed copy of this document. The waiver can be found here: https://waiver.fr/p-zSsEM
Pay your party deposit. Any party with reserved rental equipment (other than the FREE rentals included) is subject to a party deposit of $50-$100. Any party with a D14 Party Host requires a $100 deposit. The entire deposit amount will be deducted from your total due at the time of registration. The deposit can be paid here: http://store.d14airsoft.com
Check in at Registration on the day of your reservation. Once you've registered, we'll provide your reserved rental equipment and your private safety briefing. Please note that we require collateral for all rentals. Typically, this is in the form of a valid state issued ID card.
Rally up!
That's it!
Since we are committed to making sure you have an unique birthday party experience at D14 Airsoft, we limit the number of reservations per game day. We also request that you give us as much notice as possible to make sure we have everything prepared for you. We do not allow reservations on days when we are hosting special events. Please refer to our
Events page
for specific dates.
Need to accommodate more than 20 players? Need to reserve the field outside of normal operating hours? Have questions, special circumstances, or suggestions? Contact us at
here
.